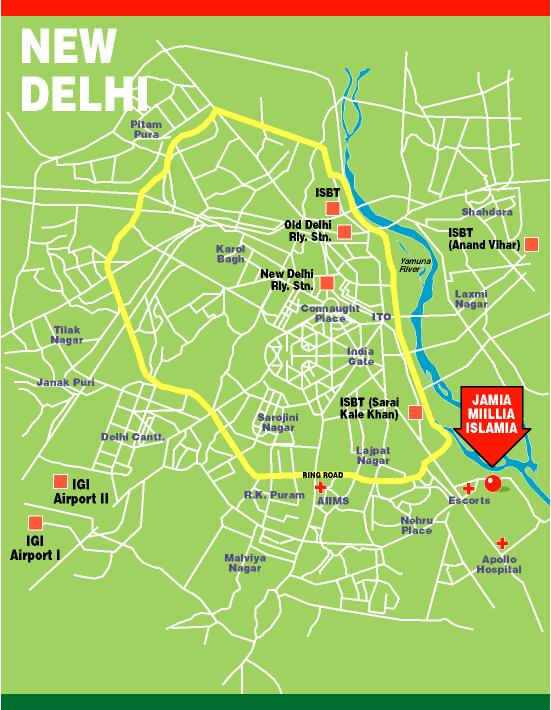 How to reach Jamia
Jamia campus is situated in the Okhla area of South Delhi, close to the banks of Yamuna. It is easily accessible by either city-bus or any other mode of transport. Two major landmarks close to the Jamia campus are the Holy Family Hospital and the Escorts Heart Institute.

From the Indira Gandhi International Airport or any railway station in Delhi, take a prepaid taxi or auto-rickshaw to Okhla or Jamia Millia. Note that Okhla should not be confused with Okhla industrial area or Okhla phase I/II

If coming by a private vehicle, going on the ring road, take a turn at Maharani Bagh on the road leading to Kalindi Kunj . Then go straight till you come to a crossing where you can see the Escorts Heart Institute. Take a turn left, and it will lead you to the Jamia campus.

If coming via the outer ring road from R.K.Puram, go on the outer ring road, and after crossing Nehru Place the take the right bifurcation at the fork. Go ahead over the flyover till the road ends. Take a right from there, and you will be in the Campus in a minute.

You can also come via the Mathura Road, and then take a left at the so called Okhla Mod, and you can reach Jamia after crossing the Escorts Heart Institute.

Delhi Transport Corporation bus routes which pass through, or close to Jamia area are 402, 403, 507, 400, 421, 463, 473, 534.